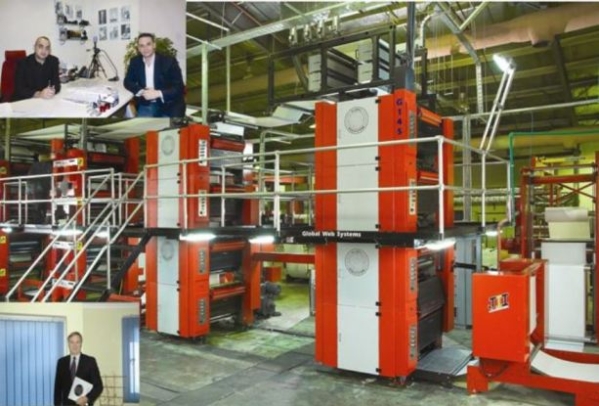 Global Graphics INT is proudly announces the installation of Global Web Systems off set web towers GWS G135 and G145, Prime UV equipped 4 Hi tower and fully optioned press line in Al Rai Media Group Co., Kuwait.
Global Graphics INT Company is dynamic one-stop graphic supply company located in Kuwait leading with many worldwide companies. The General Manager Ayman Abo El-Farag said "The installation of GWS towers is an achievement for Global Graphics INT as our first web offset tower installation in the Kuwait printing market. With the expertise and cooperation of Al Rai Media, GWS has brought Progress Press a total solution to their customized printing needs. With the installation of the GWS G145, G135 printing towers and Prime UV curing system, Al Rai has been able to upgrade the quality and look of their newspaper. One of the major reasons for the huge jump is due to the high quality of registration and color management that has them producing the most attractive paper in the country".
Al-Rai Media Group Co. is a Kuwaiti shareholding company and is considered to be the first company of its kind covering the written and the Audio visual segments. Al-Rai Media Group publishes daily political & comprehensive Arabic newspaper. – Al-Rai. Representing Al Rai Media Group the General Manager Yasser Syed Al Zain said "Al-Rai which is currently rated the number one daily in terms of coverage, circulation, readership and influence according to the latest studies issued by accredited research firms in Kuwait and the GCC region have recently installed GWS G135 and G145 units and Prime UV. As we have grown, we have committed to using the best presses to produce high quality printed materials. Al Rai is the only newspaper in Kuwait with UV printing capabilities. The G145 4-high tower has the latest UV technology and provides Al Rai with a printing solution unseen in this market before. The installation was a grand achievement and we have attained the tremendous support from Global Graphics INT, Global Web Systems and Prime UV to make the installation successful".
Global Web Systems-USA is a manufacturer of single-width web presses and folders for commercial, semi-commercial and newspaper production. The company's products include: – G-100 press; – G-135 press, rated for 35,000 copies per hour (cph); – G-140 press rated 40,000 cph – G-200 two-around press rated for 35,000 broadsheet or 70,000 tabloid cph; and – G-145 Platinum press rated for 45,000 cph. Three form rollers and bearers on all cylinders. Automation options such as remote ink control, remote register, shaft less drive and spray dampening are available on all press models.
The G135 and G145 Platinum Series bring proven and innovative concepts to the single width, one around printing press market. G135 have printing speeds of 35,000 C.P.H. are possible with the many improved design features. Our PCP system always assures you get the most accurate printing required. Quality, speed, durability, and proven designs make the G135 your high quality printing choice. Whereas the G145 has speeds of up to 45,000 C.P.H. are possible with the many improved design features. The third form, full bearer design coupled with spray dampening, automated ink key control, and our PCP system will assure you get the most accurate printing capabilities available. The ability to use a wide range of line screens and masks makes this your ultimate commercial printing choice for heat set and UV requirements.
Representing Global Web Systems Inc. USA, President C. Doyle Sutherland said: "GWS offers a full line of web offset printing and folding systems. Our G-145 4-Color Tower has proven to be an excellent addition to our product line. Completed installations of the G-145 with UV drying systems both in North America and Europe have proven to be very successful. Print quality levels from the G-145 have exceeded expectations and can produce true Commercial standards of reproduction on a variety of paper types and thicknesses. Commercial quality is now possible with the ease and simplicity of cold-set production"
Prime UV has a unique participation in the new look and fully optioned press line. PRIME UV is the leading worldwide manufacturer of UV curing/drying systems for single and doublewide newspaper presses UV printing at press speeds up to 80,000 IPH. The Executive Vice President, Erich Midlik said about the Al Rai installation: "Prime UV Curing Systems are easily installed after the last print units on Coldset Web Newspaper Presses. With Prime UV installed, the Coldset printer can print covers, inserts, catalogues and flyers on coated and supercalendered stocks. Now, printers and publishers are increasing revenue growth with PRIME UV by printing on coated, supercalendered, or newsprint by adding PRIME UV to any cold-set web newspaper press. PRIME UV has installed both end-of-press and inter-station UV dryers on Offset. PRIME UV Smart 2100 Controls provide exceptional UV system operation, superior reliability and direct diagnostic capability via either modem or Ethernet connection to the PRIME UV factory. Print vibrant 4-color section covers, inserts, weekly supplements, magazines and mailers with PRIME UV. PRIME UV is a GREEN technology. With PRIME UV eliminate natural gas expense and eliminate V.O.C.'s in the pressroom. Installs easily and quickly on all newspaper and cold-set web presses".
The completion and complete success of the AL Rai expansion project has ushered a new era of printing into the Middle Eastern market. Global Web Systems Inc. reputation as an industry leader in quality and solutions has once again proven that what was once considered "impossible" is now normal. The partnership of Global Web Systems and Global Graphics Int. will continue to bring superior quality and solutions to the printing industry. The challenges of providing our customers with unique, cost efficient, profit centric solutions will continue to be our main focus.