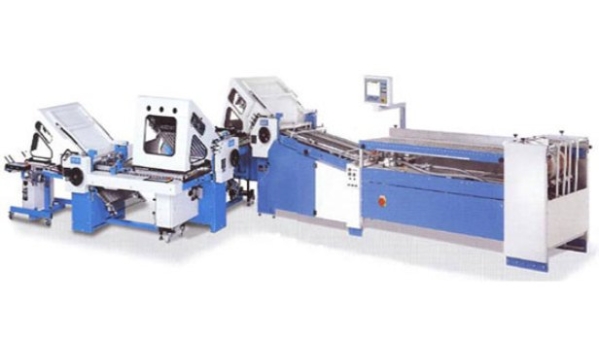 Global Graphics INT-Kuwait successfully installed High capacity folding machine from GUK-Falzmaschinen Griesser & Kunzmann GmbH & Co. at Al Khat Printing Press.
GUK-Falzmaschinen Griesser & Kunzmann GmbH & Co. is based on Germany is a worldwide active company having more than 60 years in the field of production and development of complex high capacity folding machines. These machines are used successfully in every place where paper made in shape especially in the printing, pharmaceutical and packaging industry, in book binding, letter shops, administrations, banking etc.
In the event Ayman Abo El Farag, General Manager of Global Graphics INT said, "This is our third installation of GUK folding machine in Kuwait. GUK FA-74/6-4-4 with R6 (continuous) Feeder is a good choice for Al Khat according to their work schedule as this machine is possible to have up to 30 – 160 m/min and 40 000 sheets/h. This folding unit has three stations as FA-74/6, FA-74/4, FA-54/4 with 6, 4 and 4 folding pockets per stations simultaneously two HHS (C220V2 Gluing Unit) installed in first station. In addition to the Folding Stations ZK500 Folding Unit make versatile both side (left & right K Fold) fold for 32 pages jobs. S720 Chute Delivery Table to collect folded output in variable speed. First Station FA-74/6 is furnished with L4 Control (Touch Screen), while all other units are furbished with M4 Control. We proudly announce that Global Graphics INT Engineers installed the machine and gave on site handsome training to the operator. We are capable of Machine installation, operator training and after service in place on time".
Representing Al Khat Printing Press Mr. Mohammad Abo Khalid, General Manager said, "we are proud to have a folding machine like this with perfect technology and excellent quality result. The most interesting factor of this machine is L4 and M4 control which works as main control component, will help the operator for easy and fast setup (save and recall) of predefined job. Maximum length of sheet up to 144cm is possible. Secure sheet separation, Electro-mechanical double sheet detector stops possible double sheets before they go to the folding unit. We are sure we can fulfill our customer's satisfaction, time management and quality assurance. Really a perfect construction set system with latest technology".