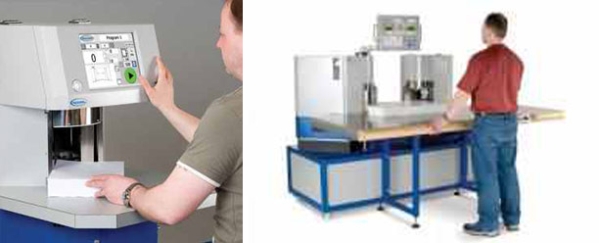 Paper Counting Machine by Vacuumatic Ltd (England)
If it needs counting, batch marking or tabbing we've got it covered. Precisely. You can't count paper better or more accurately than on a Vacuumatic machine and no one else can offer the same range of counting technologies: Pin-&-Blade, Rotary Disc, Optical and Tabbing – all developed and manufactured in-house.
We supply state of the art equipment to the security and commercial print sectors, converters and paper mills.
Full consultancy and support is available from our UK HQ, our subsidiary in Germany and our global network of sales and service partners.
Here we showcase our full range of products, each guaranteed to provide unmatched quality, outstanding unit efficiency and compelling cost-saving benefits.
Printers, converters and paper manufacturers need to count paper and other materials rapidly, with guaranteed 100% accuracy and with a sharp eye on maximizing waste reduction. All these industries trust us to build the best paper sheet counting and batching machines to fulfill their individual requirements.
Only Vacuumatic can offer solutions from such a wide range of counting technologies. Our top quality, robust product range is supported by our highly acclaimed levels of reliability and durability. Our machines are supported by prompt on-site engineer backup wherever required.
We have 4 Major Type of Machines as below
Commercial Counting Products
1. Vcount 3 Series
2. Count-S Series
Security Counting Products
1. Super 30 Series
2. Tornado Series
Tabbing System
1. VUT1
2. CUT1
3. SMART1
Web Marking and Waste Control
1 RTIS
Commercial Counting Products
VICOUNT 3
Vicount 3 is Vacuumatic's new generation of single head paper counting machines for the Security and Commercial Printing industries. Drawing on over 50 years of experience, the Vacuumatic Vicount 3 is the new benchmark for accurate, efficient paper counting and batching.
Available with either Disc or Pin-&-Blade counting technology and a range of formats and options to suit the widest range of applications, Vicount 3 is without doubt the most flexible paper counting machine on the market. The color touch screen with icon-based graphics ensures that even inexperienced users can operate the machine efficiently. Options such as Air float tables, coupon attachments and a wide variety of Discs and suction blades extend the range of papers and materials that can be accurately counted. From the basic bench top machine to the top-of-the range industrial version, from gift wrap to tax stamps, Vicount 3 is already exceeding the demands of clients
COUNT-S
Count-S is Vacuumatic's solution to the challenge of counting sheets or products made from materials that are too thick or heavy to count mechanically. Count-S incorporates cutting edge optical technology which captures, reads and counts an image of the stack edge, using Vacuumatic's unique software.
By using this method, Count-S is capable of reading a stack of products up to 450mm high and returning an accurate count result within seconds. Selected for use by the manufacturers of Security, ID and Credit cards, as well as by packaging companies around the world, Count-S is leading the way in the field of optical counting equipment.
Security Counting Products
SUPER 30
The new Super 30 range forms the 4th generation of high quality twin-head sheet counting machines from Vacuumatic. Designed and developed entirely by Vacuumatic's in-house R&D team, Super 30 is the only twin-head machine available with either Disc or Pin & Blade counting technology, enabling clients to choose the method that best suits their materials or application. Feedback from key players in the Security Printing industry has been incorporated throughout the Super 30 design process, ensuring that this new model is the most complete machine in its field. Icon based commands on a large color touch screen offer a huge step forward in user friendly operation.
A stainless steel Air float table, heavy-duty jogging bars and improved pile guides ensure easier pile transport and preparation. Smooth head travel and fast resetting reduces count cycle times. All these factors drive increased productivity while maintaining the levels of accuracy that Vacuumatic has built its reputation on.
Super 30 incorporates the latest CAN bus internal communications technology. Auto diagnostic functionality is improved, internal wiring and electronics are minimized. Coupled with a revised module layout for easier access, Super 30 becomes the most easy to service machine available. Modern, efficient pumps and motors consume less power than previous models; in addition, the entirely lead-free construction, makes Super 30 the greenest machine
ever produced by Vacuumatic. Super 30 from Vacuumatic:- The most flexible, reliable and durable twin-head sheet counting machine for the Security Printing and Paper industry.
TORNADO
Tornado is Vacuumatic's flexible offering for the high speed note counting market. Available in two basic configurations and capable of being customized to fit within a client's individual process line, Tornado counts cut banknotes and cheques at speeds of up to 10,000 sheets per minute.
The standard benchtop Tornado is a compact, completely self-contained unit that has been supplied throughout the Security Print industry for over 10 years. The new mobile Tornado comes complete with its own counting table, enabling the machine to be moved and incorporated into any client's manual finishing and banding line.
Tornado can also be integrated as a high-speed counting unit within an automatic note finishing and packing line. Each installation may be different in this case, so Vacuumatic experts are on hand to offer full support to clients considering this type of specialized application.
Tabbing System
Vacuumatic Universal Tab Inserter (VUTI )
The Vacuumatic Universal Tab Inserter is the top-end solution for highly accurate online counting and batching of sheet delivered products such as sheet paper, commercial print and packaging. Mounted at the delivery end of almost any sheeter or printing press, the VUTI system enables operators to count and batch good copy, isolate areas of make-ready or spoil and return an accurate count of delivered piles.
The VUTI is supplied with either a pedestal stand or machine mounting kit. Tabs can be triggered either by signals from the press or sheeter counting system, or from one of a range of independent sensor systems that are available from Vacuumatic. Tabbing systems have been a feature of the Vacuumatic portfolio for over 30 years, the VUTI is the latest in a long line of market leading products in this field.
Combined Universal Tab Inserter (CUTI)
The Combined Universal Tab Inserter is Vacuumatic's compact tab inserter system, enabling accurate tabbing and batching of sheeted piles with the minimum requirements of space and investment cost. Usually pedestal mounted, the unit can be interfaced directly to most printing presses, or triggered via a laser sensor attachment.
The CUTI is often supplied to commercial printers looking for greater accuracy in batching their printed products. This can result in minimization of waste sheets and improved productivity in subsequent finishing processes.
SMART 1
Vacuumatic's new SMART 1 tab insertion system has been designed to offer tabbing as cost-effectively as possible on presses and sheeters that are equipped with their own programmable counting or sheet inspection system. Such machines can provide a 24v pulse signal to fire and cut the tab, meaning that there is no need for the Electronic Counter Control unit or sensors that are required to drive and control the VUTI tab insertion systems. SMART 1 is often supplied direct to press and sheeter manufacturers to be factory fitted, and sometimes as a replacement for old or worn tab insertion systems.
SMART 1 is a product for very specific applications, so please be sure to consult with Vacuumatic or your local distributor prior to placing an order.
Web Marking and Waste Control
RTIS
The RTIS 2 offers unparalleled waste management control by remote firing adhesive marker labels onto the moving edge of web material, whenever an area or length of spoiled product needs to be isolated from good copy.
The RTIS 2 is easily operated via a pre-programmed control box. The box comes with six colored manual fire buttons, each producing a three character printed "reason of fault" code. The printed code will assist in minimising waste by differentiating between, and warning of, possible print or product faults. These areas may have to be checked or removed before sending on to an end user or subsequent finishing process.
The RTIS 2 can attach a label to the web at speeds of up to 600m/min with no physical contact and therefore no risk of damage to the web. The RTIS 2 can be operated manually via the control box or a hand held remote firing unit (infra-red/radio frequency). RTIS 2 can also be triggered automatically by an external device such as a sensor or camera inspection system.
Installing an RTIS 2 eliminates the dangerous and inaccurate practice of hand flagging, an increasingly hot topic during health and safety evaluations.