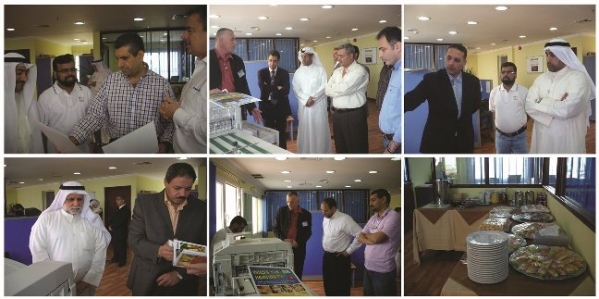 The digital Production presses are targeted at low-cost printing for short to medium runs
Kuwait-based graphics arts suppliers Global Graphics recently held an event to launch Xante's Ilumina digital production presses for the commercial printing industry. The open house event was attended by printing house owners, business professionals and industry experts both from government and commercial sectors.
Addressing the event, Ayman Abou El Farag, General Manager of Global Graphics said, "We have foreseen the printing demands of the market for low-cost and creativity with local sales and services support. We are sure Ilumina is the new affordable solution that allows to meet the demands for short to medium run full color sheets, cards, banners, envelops and much more."
Brian Slee, Marketing Manager at Xante, added. "The regional printers will benefit from the machine opening up new markets for them. Small run jobs that have traditionally been too expensive to service can now be serviced very easily and economically. The presses can print on many types of media, from thick paper, 502 gsm, right through to magnetic media. These machines generate new business channels."
Xante's Ilumina range includes the 502 digital color presses, digital envelops press, digital production press, and Ilumina 330 with 1200×1200 dpi. Global graphics is the dealer for sales and services for Xante digital presses and supply of associated consumable in Kuwait. Ilumina digital production presses allow a printing range up to 327 mm(W)x1200mm(L) 75 to 502 gsm with the resolution of 600 x 1200 dpi and features a high capacity feeder that holds upto 4,000 sheets of 80 gsm bond or 600 DL envelopes, glassine window envelopes and large envelopes (up to 330×558 mm). the presses are targeted at low-cost printing for short to medium runs.