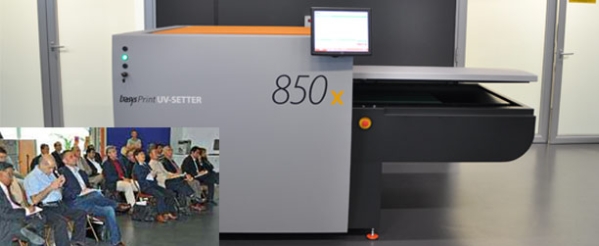 Global Graphics INT, graphic art suppliers and exclusive BasysPrint dealer in Kuwait announced the launch of a new multi-function and high productivity BasysPrint UV- Setter 450x and 850x Series. BasysPrint, a division of Punch Graphix, the inventor of UV-CtP has been offering internationally proven systems for the digital exposure of conventional UV printing plates.
The International launch event was held at BasysPrint's production plant in Ieper, Belgium on June 6-7 2011. The event was witnessed by distributors and agents of BasysPrint from around the world, who obtained the chance to learn about the new UV-Setter 450x and 850x Series.
"Our approach is to develop solutions that will secure the future of our customers' businesses," says Christophe Lievens, Director of Sales and Marketing. "The ability to provide an array of innovative applications that will differentiate their offering in an increasingly commodity based industry is of the utmost importance to printers. At BasysPrint, we use the name Cross Applications for these unique print effects such as spot varnishes, hot-foil stamping and embossing, as well as processes like die-cutting and Screen printing. By enabling our customers to offer these Cross Applications in-house, we supply them with additional revenue streams and service levels to help them safeguard their continued success."
Ayman Abou El-Farag, General Manager of Global Graphics INT was present at the launch event, he said, "This event focused on the multi-functionality of the new platforms, with demonstrations being given on the 8-up UV-Setter 851x (manual) and 855x (automatic), alongside workshops on utilising the Cross Applications for relevant markets. Customers can therefore be certain that, wherever they purchase a BasysPrint UV-Setter system from, they will receive the highest standards of service and information. The new devices extend the success of basysPrint's existing UV-Setter 450 and 850 Series, and give customers the opportunity to embrace new markets and Cross Applications".
The new UV-Setter 450x and 850x Series will be commercially available for customers from November 1, 2011.